Annual Meeting
Remembering Our Future
St. James Cathedral will hold the 2023 Annual Meeting on Sunday, January 29, in the Great Hall, following a special 10 a.m. Choral Eucharist in the Cathedral. This will be the only service of the day. Lunch will be provided. Let us know you are coming by filling out this Google Form where you can also state any dietary restrictions.
At the Annual Meeting we will look back at last year and forward to 2023. We will also elect Cathedral Chapter members, representatives to Diocesan Convention, and Finance Commission members. Meet the candidates below.
Cathedral Chapter Member Nominees
Lisa Ahmad
Lisa Ahmad joined the cathedral in 2017 and attends the 9 a.m. service. She is a chorister mom, Sunday School volunteer, and Food Ministry volunteer. She teaches preschool at The Day School at Fourth Presbyterian Church.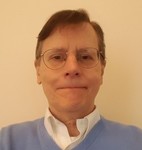 John Fischer    
I am very honored to have been nominated to serve on the Cathedral Chapter of St. James, which became my spiritual home during the early days of the pandemic. The warmth of this community, and the dedication of its clergy and staff, have been constant inspirations for me from the start. It has been a privilege to assist the Cathedral as part of the Welcoming Committee and as a Reader/Intercessor, and I hope to continue service by completing the upcoming spiritual care visitor program at Bishop Anderson House.  
A native Texan, I studied for one year after college at the Episcopal Seminary of the Southwest in Austin and subsequently completed a Ph.D. in English at Princeton University. After teaching English at Princeton and the Univ. of Michigan, I received a J.D. from the Univ. of Texas School of Law and began practice as a litigator in labor and employment law. I recently retired after working for many years as an attorney with the federal judiciary. 
If entrusted to be a Cathedral Chapter member, I will give my full attention to the stability and growth of St. James during this period of transition. My wish is that the Christian message of faith, love, and inclusion that this church exemplifies so strongly can reach an ever-larger number of people in our community.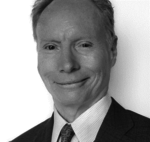 Greg Gerber
My wife Trish and I have been attending St. James since 2018. I have served on Chapter since 2020. Trish and I attended the Annual Retreat in 2019 and 2022 and became more deeply connected to the community. Our "regular" service is on Sunday at 8 am. We appreciate the social outreach and community involvement encouraged by St. James. We support the Food Ministry and appreciate the opportunity to be of service. We participated in the Pathways to Racial Reconciliation Program and got great personal value from the program and , again, grew closer to the St. James community. I co-lead the Wednesday evening Centering Prayer practice with Lisa Hackney-James.
I am a senior managing director at JLL, an international real estate services and advisory firm. I have been a part of the St. James Real Estate Committee, helping to address the Parish property and building challenge. My 40+ years of commercial real estate consulting has been with large institutions and not-for profit organizations.
Trish and I have been married for 45 years and have three children and three grandchildren. We appreciate Chicago and are active in civic and cultural activities. We are committed to supporting social causes with special focus on education and human welfare. We believe "to whom much is given, much is required."
Diocesan Convention Delegate Nominees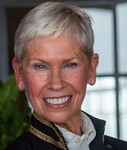 Anne Driscoll
I recently completed a three-year term as one of the three Diocesan At Large Members of the Cathedral Chapter. During the past year, I felt called to St. James. The profoundly meaningful worship services, including the many excellent sermons and exquisite music, have fed my spirit. It is an honor to be nominated to serve as a member of the Cathedral Chapter, now as a parishioner.
I currently serve on the Board of Trustees of Episcopal Charities and am passionate about mission and outreach. I accompanied a group of students on a mission trip to Moshi, Tanzania and most recently journeyed to Chiapas, Mexico to work with two Episcopal companion parishes there. 
I am a Partner at McCarthy Bertschy & Associates, a retained only executive search firm, and have over two decades of professional services industry experience. My practice expertise spans a broad range of industries, although my areas of specialization include the manufacturing, professional services, and pharmaceutical/medical device industries.
Susan Fickling
I am a cradle Episcopalian who has attended St. James on and off since moving to Chicago in 1998 and have attended regularly since the birth of my first child in 2009. My children Alba and Ashwin sing with the choristers. We generally attend the Sunday 9:00 a.m. service and I often help in Sunday School classes during the 10:00 a.m. hour. 
I am a member of the Cathedral Chapter and serve as Junior Warden. One of the things that is most important to me about St. James is the amount of social outreach we do.  Our family supports the feeding ministry both as volunteers and financially and I would love to see more community outreach as part of the mission of St James.
In my "day job", I am a managing director at Duff & Phelps, where I run our Midwest Transfer Pricing practice.  I also serve as the Audit Chair and on the Board of Trilogy Behavioral Healthcare. I have an MBA from the University of Chicago Booth School of Business and a BA from Scripps College and am a Certified Business Economist™.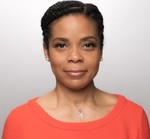 Nicole Spencer
I am a lifelong Episcopalian confirmed at the National Cathedral in 1985. For many years prior to becoming a member of St. James, I attended services in St. Andrew's Chapel. I became a member of the St. James in Autumn 2015. Summer in the City is the ministry that inspired me to join the St. James Cathedral Community. I am active in the Summer in the City (SitC) ministry as both a volunteer and member the working group.  As a member of the SitC working group, I focus on strategies and processes that will support the longevity of the ministry.  I am also an enthusiastic volunteer during SitC camp and seasonal events.  I am a lector and intercessor during Sunday choral eucharists. I have served on Chapter since 2018.  I currently serve as Senior Warden.
I am both challenged and nourished by St. James. St. James is my church home. It has been my joy and honor to serve the St. James Cathedral community in various ways.  I served as a Representative to the Convention for the first time this year. At this critical time in the life of St. James, I am eager to continue my commitment to communicating and voting our interests at Convention in 2023.
In my professional life, I work with executive teams on organizational development and process improvement at the nexus of strategy and operations. My niche is developing and sustaining productive relationships between and among diverse stakeholders. I have more than 20 years' experience in real estate. I've managed high-rise office buildings in the Loop as well as commercial and residential portfolios in Chicago. 
In November 2021, I was elected as a lay representative to the Bishop and Trustees of the Episcopal Dioceses of Chicago.  Over the past 30 years, I have volunteered for a variety of non-profit entities whose missions support education for girls and women; spiritual development; and LGBTQ+ communities.
I received my undergraduate degree in Political Science from Bryn Mawr College and my Juris Doctorate from Northwestern University School of Law.
Nominees for Finance Commission
George Culver
I currently serves on the Cathedral Chapter and the Finance Commission. He served as Assistant Treasurer for eleven years and as Chair of the Investment Committee for nine. George serves the Diocese as a Trustee of the Common Fund and Episcopal Charities as a member of their finance committee, and as Treasurer for Brent House, The Episcopal Council at the University of Chicago. His experience in the Derivatives Industry gives him perspective for matters in investment and finance and he has helped many members of St. James with large gifts and bequests. Most importantly he helps teach the younger students in the Sunday School. George is a life-long Episcopalian and graduated from an Episcopal grade school (Trinity, New York City.) He is married to his college (Yale) sweetheart, Marianne Culver. Their son Leland grew up at St. James and attends Amherst College.
Kevin Godsil
I was first elected as a member of the Finance Commission in 2021 and am eager to continue serving in that role. I have been attending St. James since 2005 and joined the Acolyte Corps in 2007. Currently, I primarily attend the 11:00 a.m. Sunday Eucharist.
I am a Client Service Manager at the Northern Trust Company, handling the relationships between institutional clients and the Bank's Transfer Agency operations. I graduated from Auburn University in Auburn, Alabama, with a Bachelor of Science in Business Economics.