Music
The Cathedral Choir sings Sundays at 11 a.m. and other special services. Made up of auditioned volunteers and paid professionals from the church, the choir's repertoire is rooted in the Anglican cathedral tradition, spanning sacred choral music from the 16th century to the modern era.
The Choir School is an after-school program that offers children a world-class musical training at no cost financially. Choristers have the opportunity to tour, attend summer choir camp, make recordings, and—of course—sing excellent music.
St. James presents special choral services throughout the year, performed by the Cathedral Choir and joined by outstanding local and international musicians.
St. James Cathedral is thrilled to welcome Dr. Jeremy Filsell who will lead the annual Treble Festival on October 8-9, 2022. Register today!
St. James is one of the teaching locations for the Music Institute of Chicago (MIC), which annually serves more than 2,000 students of all ages and ability levels. MIC offers lessons from distinguished faculty in piano, strings, voice, woodwinds, brass, and harp.
Come hear the leading ensemble of its kind! The treble choristers of the Saint Thomas Fifth Avenue Choir of Men and Boys will be live in concert at St. James Cathedral, Chicago, on Saturday, October 8 at 7:30 p.m.
St. James Cathedral appoints Associate Director of Music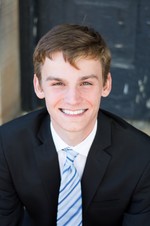 The Dean, Chapter, and staff of St. James Cathedral, Chicago are pleased to announce the appointment of Associate Director of Music David Boeckh, who will begin in July 2022. A committed church musician, world-class organist, and talented choir trainer, David will assist Director of Music Stephen Buzard in continuing to grow the music ministry at St. James Cathedral.
David Boeckh is currently finishing his master's degree at Indiana University where he studies organ with Christopher Young with a minor in choral conducting. Originally from Seattle, David began playing the organ while his family was on sabbatical in Berlin, Germany. He continued his organ lessons with Mel Butler at Saint Mark's Cathedral in Seattle, and in 2013 he was accepted into the UW Academy, an early entrance program at the University of Washington, where he studied with Carole Terry. David completed his undergraduate degree at Oberlin Conservatory as a student of James David Christie. David has participated in numerous summer organ academies and competitions in the US and Europe, including the North German Organ Academy in Bremen, Germany and the Haarlem International Organ Festival. He is the winner of the 2015 West Chester Organ Competition.
A passionate church musician, David has served Episcopal congregations in Washington, Ohio, Oregon, and Indiana, and in 2018 he was the Wilson Family Sacred Music Intern at the Brick Presbyterian Church in New York City. Before coming to IU, David worked for two years as the Organ Scholar at Trinity Episcopal Cathedral in Portland, Oregon, where he assisted Bruce Neswick in all aspects of the vibrant musical life of that cathedral. He is currently the Organist-Choirmaster at St. Matthew's Episcopal Church in Indianapolis, and outside of his studies, David serves as the sub-dean for the Bloomington Chapter of the American Guild of Organists and the Graduate Assistant for the IU Organ Department.
Since 2017, St. James has employed an Organ Scholar, made possible due to housing generously provided by Dr. Rowland Chang. Our three Organ Scholars, Mary Pan, Isaac Drewes, and Meg Cutting have each been integral to growth of our musical offerings, especially the establishment of the chorister program. As we look forward to a new chapter of growth and innovation, the Associate Director of Music brings a higher level of experience and the stability of a longer tenure. Building out the Organ Scholarship into an Associate position has been made possible thanks to the Elsa Vaintzettle Fund for Music and the W. Eber Episcopal Music Trust.