Visiting St. James
Welcome! 
When you visit St. James Cathedral, expect to receive a warm welcome! St. James is a vibrant and historic Episcopal church in the heart of downtown Chicago, welcoming you as you are, without conditions or expectations. If you are a first-time visitor to our church or website, we look forward to meeting you when you visit our church.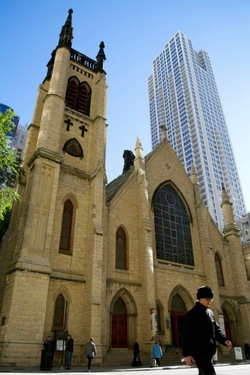 Plan your visit
Sundays are filled with activity, with three services of Holy Eucharist, Sunday School, Dean's Forums, refreshments and conversation in the Welcome Center, and other activities. Sunday worship schedule.
During the week, we invite you to explore the cathedral on your own by entering through the Welcome Center at 65 E. Huron Street. The receptionist will direct you to the cathedral and provide you with a self-guided tour. You may also want to visit the outdoor labyrinth on the plaza. Weekday worship schedule.
A disability access ramp is located at 65 E. Huron St., at the west end of the building.
Map & Parking
We are conveniently located 2 blocks from the red line, exit at Chicago Avenue, then south two blocks to the corner of Wabash and Huron.
We are one block west from the 145, 146, 147, and 151 bus lines on Michigan Avenue, exit at Superior or Erie if southbound, exit at Huron if northbound.
Reduced-rate parking is available Sundays at ROW Parking Garage, 50 E Ohio Street, for $3 up to 6 hours on Sundays and $15 up to 18 hours Monday through Saturday. Parking is also available at Ohio Ontario Self Park, 33 W Ontario, for $9 up to 18 hours daily. Get a reduced-rate parking voucher from the St. James Commons reception desk.