Dean's Forums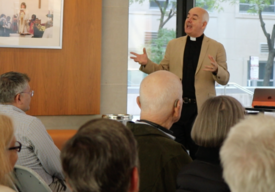 Every Sunday before our 11 a.m. Choral and Live-Stream Eucharist from 10 a.m. to 10:40 a.m. 
During the first five Sundays of Lent, the Dean's Forum will undertake a brief catechetical journey around the nature of the Book of Common Prayer, looking both at the history of the Prayer Book tradition from the Reformation to the present day, and also looking at the Episcopal/Anglican understanding of sacraments.
Dean's Forums are on sabbatical for the summer. Check back for special summer offerings.
Special Dean's Forum - June 26, 2022
The Rev. Christopher Griffin, Vicar, St. Martin's Episcopal Church, Chicago
Join us this Sunday, June 26 at 10 a.m., when we welcome the Rev. Christopher Griffin, Vicar of St. Martin's Episcopal Church, located in the Austin neighborhood of Chicago. Chris serves as one of the diocesan representatives elected to serve on our Cathedral Chapter and over the year prior to Timm Holt's death was working with him to explore opportunities for common mission between St. Martin's and St. James Cathedral. He will preach at our 9 & 11 services and will lead a special Dean's Forum between services reflecting on his experience as an Episcopal priest and a member of the LGBTQ community.