Dean's Forums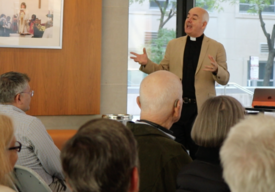 The Dean's Forum has returned to our formation schedule every Sunday before our 11 a.m. Choral and Live-Stream Eucharist from 10 a.m. to 10:40 a.m. 
After eighteen uniquely challenging months, in which our lives have been disrupted in a myriad of different ways, the Dean and the Sub-Dean will be helping us recall what it means to do and be church, and to have the chance to recap on the basics of our faith. Each session will start promptly at 10am in Kyle's Place - whether you have spent decades coming to church or you are a brand new Christian, you are most welcome to join us. We regret that at the moment it will not be possible to offer this series remotely.
Dean's Forum - Sunday, October 10
Everything you've ever wanted to know about the Bible but were afraid to ask!
Recognizing that the Marathon may impact attendance at Sunday's Dean's Forum, the session this week will be a Question & Answer time about the Bible. If you have a question you've always wanted to ask about the Bible, whether of tiny detail or enormous overview, this is your opportunity to put the Dean on the spot and see if he can answer it!