Dean's Forums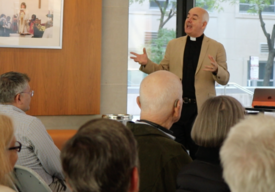 Dean Dominic Barrington and guest presenters lead Bible studies and forums on issues of faith and public life on most Sundays during the program year at 10 a.m. in Kyle's Place Gallery. 
Christians have traditionally paid special attention to growing in faith during Lent and we will be offering two exciting opportunities to do so during this holy season. On the five Sundays of March, I will be offering a series at the Dean's Forum called Talking Christian based loosely on the Nicene Creed. We say it every Sunday morning, but we may not understand and appreciate it as fully as we might. At the heart of these words is an urgent and lengthy discussion about salvation, love, and God. 
Lenten Schedule
Sunday, Mar. 1 (Lent 1) - "Why it is good to talk Christian"
Sunday, Mar. 8 (Lent 2) - "Talking Trinity"
Sunday, Mar. 15 (Lent 3) - "Talking about Jesus"
Sunday, Mar. 22 (Lent 4) - "Talking about Love"
Sunday, Mar 29 (Lent 5) - "What did God ever do for us?"