Dean's Forums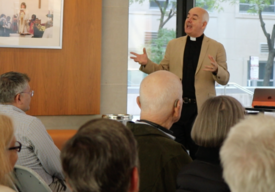 Every Sunday before our 11 a.m. Choral and Live-Stream Eucharist from 10 a.m. to 10:40 a.m. 
During the first five Sundays of Lent, the Dean's Forum will undertake a brief catechetical journey around the nature of the Book of Common Prayer, looking both at the history of the Prayer Book tradition from the Reformation to the present day, and also looking at the Episcopal/Anglican understanding of sacraments.
Dean's Forums resume Sunday, September 25 @ 10 a.m.
The Very Rev. Lister Tonge
On September 25 at 10 a.m. we will resume our Dean's Forums. We welcome the Very Rev. Lister Tonge who, over three Sundays, will lead three forums on Hearing God's Word.
How do I hear God's word to me?
These forums will provide some insight and practical tools from the Christian tradition for understanding:
1. That God speaks to me
2. How god speaks to me in my prayer.
3. How God speaks to me in my daily life and experience.