"Becoming Beloved Community" Lenten Formation Course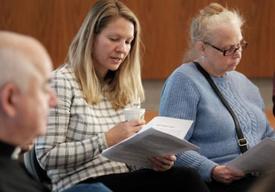 Wednesday Nights, Feb. 24 - Mar. 24 from 6:30 p.m. to 7:30 p.m.
All are welcome to join in a Lenten study of the church's role in addressing the challenges present to wholeness and health around issues of race. We will use resources of the Episcopal Church's Becoming Beloved Community curriculum along with Presiding Bishop Michael Curry's new vision document that lays out the Episcopal Church's long-term commitment to racial healing, reconciliation, and justice. We will gather by Zoom Wednesday evenings in Lent for study and small group facilitated conversation. Please RSVP to the Rev. Canon Lisa Hackney-James.