The Way of Love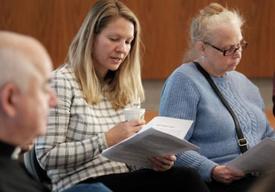 "
The Way of Love: Practices for a Jesus-Centered Life
" is a seven-week series produced by Presiding Bishop Michael Curry for Episcopalians, saying "By entering into reflection, discernment and commitment around the practices of Turn – Learn – Pray – Worship – Bless – Go – Rest, I pray we will grow as communities following the loving, liberating, life-giving way of Jesus. His way has the power to change each of our lives and to change this world."
Sub-Dean Lisa Hackney-James leads this opportunity to commit to follow Jesus and get to know other members of St. James. A brief service of evensong begins at 5:45 p.m., community supper at 6 p.m. and the discussion begins at 6:30 p.m. If you have questions or to learn more, email
Lisa Hackney-James
.