Wednesday Gatherings: The Mystery of Everything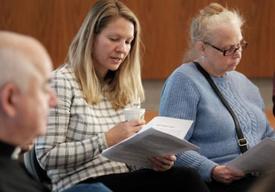 Wednesday nights at 6 p.m.
One blessing of this church year is the excitement that has grown around Wednesday nights at the cathedral. During Lent, our popular Wednesday programming continues with The Mystery of Everything starting at 6 p.m. with a simple supper and lively table conversation at 6:45 p.m. Based on the 2014 Oscar-nominated film The Theory of Everything, it tells the life story of astrophysicist Stephen Hawking.
Written by British Christian writer Hilary Brand, this course will address some of the biggest questions that life raises, both for people of faith and for those of no faith. The sessions will include brief clips from the movie as the way into these discussions. Although not vital, you will benefit most from this Wednesday night course if you watch the movie The Theory of Everything in its entirety. You can purchase it on DVD, stream it on Netflix, or rent it via Amazon, Google Play, or YouTube.
St. James will host a free screening of the film on Sunday, Mar. 1 at 5:30 pm where you can watch in the company of cathedral members. We will provide a simple supper and start the screening at 6pm. If you would like to attend supper and one of our Wednesday evening courses, please email Alexandra Kunath at akunath@saintjamescathedral.org with your RSVP and dietary restrictions.