A Message from the Dean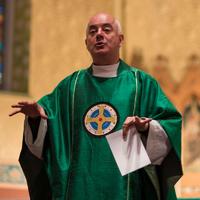 The Very Rev. Dominic Barrington
At 10 a.m. this morning in London, it was announced by
10 Downing Street
that Her Majesty has approved that I be appointed as the next
Dean of York Minster
, the cathedral church of the diocese of York, the mother church of the northern province of the Church of England, and the seat of the
Archbishop of York
.
While I am honored and overjoyed to be entrusted with such a major responsibility, I am also, of course, saddened that this news means that my time at St. James Cathedral is drawing to a close. After discussion with the wardens and my senior colleagues here, we have decided that on my return from sabbatical at the end of August, I will continue in post here until the end of October, and that my final Sunday at St. James will be 30 October.
Obviously, this news also means that Alison will be resigning as the Director of Children's Ministry. To allow Benedict and Linus to start the forthcoming academic year at their new school, Alison and they will be leaving Chicago at the end of this month, to ensure that the boys' transition is as easy as possible. Plans are already in hand to find a successor for Alison, and ensure continuity in our ministry to our youth and children. I am pleased to say that although they will be moving to York in a couple of weeks, Alison, Benedict and Linus will be able to spend the last week in October back here in Chicago, so that the four of us will have the opportunity of making a proper farewell to everyone.
Transitions of this kind do not always happen when we would wish them, and I would have preferred not to have to share this news when St. James is going through a period of uncertainty and conflict with the diocese over the future of 65 E Huron. However, the wisdom and caliber of those with whom I have worked alongside is second to none, and both in terms of staff and your elected lay leaders, the cathedral will continue to be in excellent hands, despite the challenges currently being faced. Nicole Spencer, our Senior Warden, will address this in more detail later in this email.
If you happen to have visited York, you will know that the Minster is a remarkable building. In addition to being a major cathedral with a full liturgical and pastoral life, is also one of the most significant architectural gems in Europe, and the most visited 'attraction' in northern England. My new position is therefore somewhat daunting, but if I am, indeed, thought to be capable of taking on such a challenge, it is due in no small measure to what I have learned from you – the extraordinary and wonderful people of St James Cathedral in Chicago. The last seven years of ministry here have enabled me to grow as a priest in ways I had never expected, and my gratitude to everyone who has supported me here in this role is enormous.
Dominic
---
A Message from the Senior Warden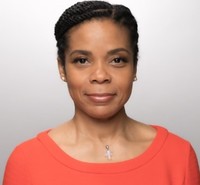 Nicole Spencer
Dominic's appointment as Dean of York Minster is foremost an honor to him, of course; but it is also an implicit credit to St. James collectively. It affirms the value of all that we have accomplished working together since his arrival in 2015. 
St. James Cathedral has flourished under Dominic's leadership. Dominic leaves behind a legacy of "good church:" thriving ministries that deepen St. James' roots in the community and exemplify the Gospel mission. As Dominic said, we have enriched each other, and that's a benefit that bodes well for both his future and for ours.  Fortunately, Dominic's planned departure date in late October gives us plenty of time to arrange for appropriate celebrations that will acknowledge his leadership contributions and express our gratitude for his time among us. We will also plan for and bid a loving farewell to all of the Barringtons as they embark on their next chapter in York.
Dominic's departure marks a crossroads for St. James. Our faith, ministries and sense of community are the mile markers for a vibrant and thriving cathedral community. While Chapter will, at an appropriate time, embark on a plan to call a new dean, this is the season to focus our collective efforts on serving the needs of our congregation and communities while resolving conflict with the Diocese.
God's grace provides a way forward. After my consultation with our Assisting Bishop and the Cathedral Chapter, Chapter has unanimously approved offering the position of Provost to the
Rev. Canon Lisa Hackney-James
. The role of Provost entrusts the full authority, privileges and responsibilities of Dean. Calling Lisa to serve as Provost recognizes both the unique circumstances in which our community finds itself, and the blessing we have in Lisa, who continues to demonstrate liturgical, pastoral and administrative leadership of the highest caliber.
I am delighted to report that Lisa has accepted the position effective upon Dominic's departure. Chapter is confident that Lisa's gifts, skills and knowledge of St. James Cathedral and the Diocese of Chicago will serve us well as we navigate the hazards of the Diocese's sale of 65 E. Huron and its potential ramifications on our ministries and capital campaign.
With gratitude for all who serve St. James Cathedral and confidence in all that will be, I remain yours, faithfully,
Nicole
---
The Office of the Bishops
The Diocese of Chicago
We extend our sincere congratulations to the Very Rev. Dominic Barrington on his appointment as Dean of York. He will be serving one of the great cathedrals in the Church of England.
As Dominic concludes his Deanship of St. James Cathedral in Chicago, we offer all good wishes for this new chapter in his ministry. Our prayers are with him and his family in this time of transition.
We pledge our heartfelt support for our Cathedral's staff and leaders as we move forward.
With our prayers and blessings.
Paula and Chilton
The Rev. Paula E. Clark, Bishop-elect of Chicago
The Rt. Rev. Chilton R. Knudsen. Assisting Bishop
---
Introducing the new Dean of York