Adult Forums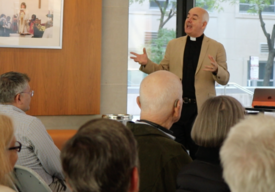 Every Sunday before our 11 a.m. Choral and Live-Stream Eucharist from 10 a.m. to 10:40 a.m. 
Provost Lisa Hackney-James and guest presenters lead lively discussions on faith-related topics most Sundays. Past themes have been studies of scripture, prayer, and the intersection of religious and civic life.
Prophets: What was, what is, and what is to come
Led by The Very Rev. Lisa Hackney-James & The Rev. Canon Steven Balke
The Season of Advent is a time of looking both backward and forward. We reflect on Christ's inbreaking to our world through the nativity stories even as we also anticipate Christ's coming again. This is a fitting season to reflect on the ministries of the prophets. Instead of being mere fortune tellers, prophets answer a special call to bring awareness to where God dwells in our lives past, present, and future. Please join us each Sunday in Advent as we explore some of the famous (and less famous) prophets and what they can teach us about our spiritual journey this Advent Season.