News Author: The Very Rev. Dominic Barrington
April 07, 2017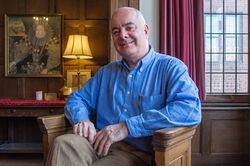 We stand on the brink of the most important week of the year. We are who we are - the Church of God and followers of Jesus - because of what God did for us in this week to end all weeks. My only message to you today can be to encourage you to walk with Jesus anew in this celebration of the last week of his life, that you may be reminded as fully as is possible of the depths of God's love and the new life which it brings the world.
February 13, 2017

A note from Dean Dominic Barrington about "The Shack"
The topic of Dean's Forums in March & April 
June 13, 2016

All faiths are invited to join us for a Prayer Vigil and Service of Healing on Wednesday, June 15, 5:30 p.m.