The Latest Cathedral News Author: Jocelyn Colao
November 22, 2022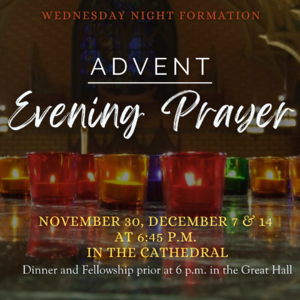 Join us Wednesdays November 30, December 7, and December 14 in the Cathedral during this season of Advent for Evening Prayer. This service combines spoken or sung prayers and the lighting of candles as a devotional offering in Advent, preceded by dinner and fellowship in the Great Hall.  
Dinner begins at 6:00pm, followed by Evening Prayer at 6:45.
We invite you to set aside time in your week to mark this season of penitence and anticipation by gathering over a meal and entering into the darkness of the cathedral to pray together.  These advent prayer offerings will be led by some of our young adults, who will guide us through the beautiful simplicity of evening prayer using the Book of Common Prayer.
November 21, 2022
Plans for the Installation and Celebration of New Ministry of our Provost The Very Rev. Lisa Hackney-James are well underway. Please save the date: December 4 at 4 p.m. We welcome The Rt. Rev. Paula E. Clark as presider and The Rt. Rev. Alan M. Gates as preacher, and hope that the entire St. James community with join us for this evening of beautiful liturgy and festive fellowship.
November 21, 2022
Sunday, November 27, at 6:30 p.m., we will celebrate one of our most beloved liturgical traditions: The Advent Procession. As the Cathedral is brought from darkness into light, we recount the coming of the Savior through words and music of prophecy. This year's service features music spanning ten centuries, from Hildegard of Bingen to André Thomas. The final anthem is a tribute to American composer Ned Rorem, who died last week at the age of 99. A reception will follow in Kyle's Place.
This service will NOT be live-streamed, so we hope you will join us in person to usher in the Advent season.