The Latest Cathedral News Author: Jocelyn Colao
March 15, 2023
Bring your ideas for small or large groups (book discussion, exhibit viewing, Sunday lunch, concerts, recycling, international meal…) on Sunday, March 26 from 12:30 until 2:30 p.m. We'll gather for lunch  and planning as we reinvigorate the "Connect" area of our Invite Welcome Connect Ministry. We'll conduct personal spiritual gifts inventories, expand our Annual Meeting "strengths and opportunities" conversation, and begin planning activities to deepen our connections. 
Please contact Laura Jenkins or Sean Bala with questions.
March 06, 2023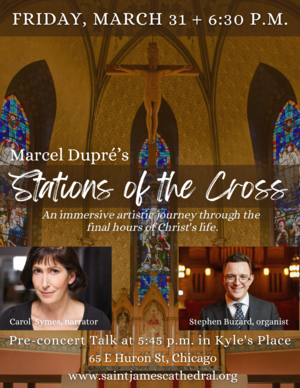 Join us for an immersive artistic journey through the final hours of Christ's life. Evocative organ meditations by Marcel Dupré are interspersed with poignant poetry by Paul Claudel, read in an original English translation. Come and be transported by this profound masterpiece.
Stephen Buzard, organist
Carol Symes, translator & narrator
There will be a pre-concert talk with Stephen and Carol in Kyle's Place at 5:45 p.m.
February 08, 2023
Mark the beginning of Lent with the outward sign of our humanity on this important day of the year: Ash Wednesday, February 22. This year, St. James will offer three in-person services and one live-streamed service. Join us in person at 8 a.m., 12:10 p.m., or 6:30 p.m. in the Cathedral, or tune in to our live-stream of the 6:30 p.m. service on our streaming page or YouTube channel.