The Latest Cathedral News Author: Alexandra Kunath
October 26, 2020
Sharing our own selves…
This past Sunday we kicked off our annual stewardship campaign. We heard some of the earliest words of the New Testament, as St. Paul wrote to the newly formed church in Thessalonica. Paul was talking to these new Christian converts about how he "had courage…to declare to you the gospel of God in spite of great opposition." Paul was brave and indomitable, but I wonder how he would have coped with living through 2020!
We have lived through much bad news in recent months. The combination of medical, emotional, and economic issues of the pandemic, alongside the social and political turbulence within and beyond our city, have all been deeply disturbing. And yet, like Paul, we also possess Good News and, like the great apostle, are called to share it.
Our good news includes such wonderful blessings as the scale and quality of our online engagement with and beyond our regular worshipping community; an ongoing Zoom program of formation for our many young families ranging from toddlers to teens; a remarkably successful adaptation of Summer in the City; the transformation of our choral programs to virtual music-making of the highest quality; and major growth in our feeding ministries in and beyond the city. Alongside this we not only met but exceeded the target for our pledging campaign for this current year, and the support of our church members has remained constant throughout these difficult months. At a time when the majority of churches have been facing decline, all of this is, truly, good news, and I am writing now to ask for your prayerful support in ensuring that these programs and all our mission and ministry might continue and might grow throughout 2021.
God in Christ calls on us to give our all - money, time and skill - to help build the kingdom. To answer that call the Church has often suggested that its members should aim to set aside a percentage of their income for this purpose. Many Christians aim to use 10% of their income in this way. At St. James, we suggest that church members should offer 5% of their income to their faith community, and another 5% to support other charities.
The impact of the pandemic may have affected your income and thus your ability to give. But I hope that as you reflect with joy on the Good News God continues to give the world, even in times of such unique complexity and challenge, you will take some time to pray about how God is calling you to share what you have received, and support the mission and ministry of St. James Cathedral next year. 
At the end of yesterday's reading from First Thessalonians, Paul spoke of his determination "to share… not only the gospel of God but also our own selves…" As St. James Cathedral faces the opportunities and challenges that next year will doubtless bring, I invite you to share some of what God has given you to sustain and grow our work. Will you make a pledge for 2021 that will help ensure that your cathedral continue in its vibrant mission?
Your priest and friend,

The Very Rev. Dominic Barrington
Dean of the Cathedral
July 13, 2020
A Special Message from the Dean
The past four months have been unlike any other time in the past century, as we faced the challenges of a pandemic that swept the world. During this time, our beloved St. James Cathedral building has been closed but not the church! You are the church, and through online worship services, Sunday school classes, small groups, forums, meetings, music lessons, virtual coffee hours, plaza Meals Ministry and planning for Summer in the City, have continued without pause, although in different forms. God has been working through us despite the physical distance between us.

Now it is time to return slowly and carefully to in-person worship. As you know, the State of Illinois and City of Chicago are in Phase IV of a cautious and wisely administered re-opening. Alongside this, the Diocese of Chicago has created guidelines for the resumption of live worship. Our plan is to resume a celebration of the Eucharist this coming Sunday, July 19 at 11:00 a.m.

After a very considerable amount of detailed and careful work by the Cathedral Chapter, ministry leaders and staff, I believe it is both safe and appropriate for us to take this step. For now, we will hold just one service each Sunday at 11 a.m. Provided the pandemic does
not deteriorate, I hope that we will be able to move towards two and then three services in the coming weeks, but this is something we will review later in the summer.

We have taken every precaution for your safety. The building has been thoroughly cleaned and sanitized. Seating will be properly distanced and limited to 50 people, and a reservation will be required. There will be glorious music from the organ and virtual (recorded) music by the choir, but no live singing. 
The Eucharist will be offered in one kind only (the bread). You may or may not feel that the time has come for you to rejoin us in person on Sunday mornings, and for now, our podcast Sunday service will continue to be offered alongside our live worship. But whether or not you choose to join us on Sunday, I hope you will give thanks that we are able to take this significant step, and that you will continue to share my prayers for an easing of the pandemic and the suffering it has brought to so many people.
Interested in attending Sunday's Eucharist? Read more about the Public Worship Health and Safety Protocols.
May 18, 2020
Chicago, May 18, 2020 – Community and civic leaders from across Illinois came together today to condemn the antisemitism, racism, and extremism reported at recent "stay-at-home" protests in Springfield and Chicago. The news conference was organized in response to reports that numerous "stay-at-home" protest attendees displayed antisemitic, racist, and extremist-related signs and engaged in similar rhetoric. The rhetoric included Hitler, Holocaust and Nazi comparisons targeting Governor J.B. Pritzker, statements such as "death to tyrants" and "tyrannical" actions, individuals calling coronavirus the "Wuhan virus," and references to QAnon and other conspiracies.
Opening the call, ADL Midwest Regional Director David Goldenberg noted, "We are all here for one reason, to collectively condemn the antisemitism, racism, Nazi comparisons and other forms of hatred recently witnessed during the stay-at-home rallies in Springfield and Chicago." Andy Kang, Executive Director of Asian Americans Advancing Justice of Chicago explained the dangers of hate speech by remarking, "Whether it is antisemitism or xenophobia or the scapegoating of the Asian community or Islamophobia . . . when we use this type of rhetoric, it's not just incredible reckless, it's dangerous." Lonnie Nasatir, President of Jewish United Fund of Chicago, added "Invoking Adolf Hitler and drawing parallels to Nazism as memes to protest public health policies designed to preserve human life is ignorant, hurtful, and hateful." Participants highlighted the importance of speaking out collectively against hate. Very Reverend Dominic Barrington, Dean of St. James Cathedral explained, "The hatred and bigotry we have seen in Springfield . . . fly against our values. And along with many other faith leaders . . . [we] stand firm in utterly condemning them." Jaime di Paulo, President and CEO of the Illinois Hispanic Chamber of Commerce similarly echoed, "An attack against one of our communities is an attack against all of our communities. We must instead work together to combat the problems we are facing as a community and not work against individual communities."
The group was critical of leaders and elected officials who fail to speak out against hatred when they see it. Karen Freeman-Wilson, President and CEO of the Chicago Urban League said, "What is even more unacceptable is the deafening silence, where individuals have failed to address what they know is a lack of moral compass in the statements that have been made." Michael Ziri, Director of Public Policy at Equality Illinois added, "Silence in the face of hate and discrimination is consent to hate and discrimination. We must defend the values of justice, fairness, and equality that have made Illinois one of the most inclusive states in America." Moving forward, Pastor Marvin Hightower, President, Peoria NAACP and Senior Pastor, Liberty Church of Peoria, implored, "We have the moral responsibility to say enough is enough. We are calling on our elected officials to say enough is enough. We are calling on our community leaders to say enough is enough. We are calling on everyone to say enough is enough." Maricela García, CEO, Gads Hill Center similarly urged elected officials to denounce these acts. "These painful acts must be stopped immediately," she said.
Many of the participants noted that no one is immune from the health risks posed by the virus. But there has been a disproportionate impact on some communities where longstanding inequities have been highlighted – and now is the time to redouble efforts to address them. Sindy M. Benavides, Chief Executive Officer of the League of United Latin American Citizen (LULAC), encouraged, "Civic engagement based upon mutual respect and tolerance, not name calling and hatred against those who differ in opinion." Finally, quoting Dr. Martin Luther King, Jr., James Rudyk, Executive Director of the Northwest Side Housing Center concluded, "Injustice anywhere is a threat to justice everywhere."
The leaders concluded the news conference with a collective call to all elected and community leaders – from across the state and political spectrum – to forcefully and unambiguously speak out and condemn hateful rhetoric and actions. A full recording of the news conference can be viewed here.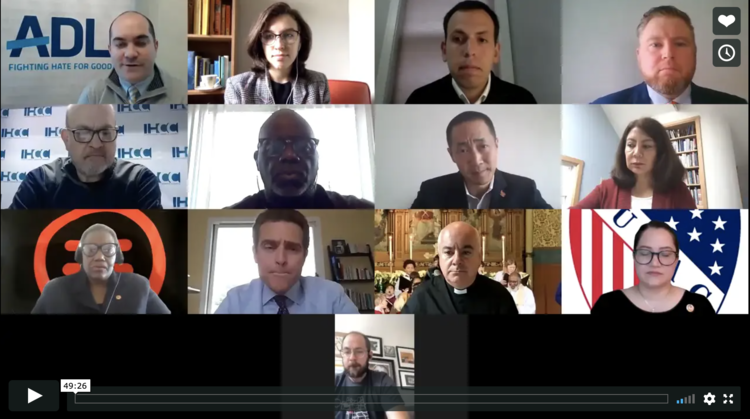 Participating in the virtual news conference were leaders from diverse community and advocacy organizations including ADL (Anti-Defamation League), Asian Americans Advancing Justice of Chicago, Chicago Urban League, Equality Illinois, Gads Hill Center, Illinois Hispanic Chamber of Commerce, Jewish United Fund of Metropolitan Chicago, LULAC, Peoria NAACP, Northwest Side Housing Center, and St. James Cathedral.
ADL is a leading anti-hate organization. Founded in 1913 in response to an escalating climate of anti-Semitism and bigotry, its timeless mission is to protect the Jewish people and to secure justice and fair treatment for all. Today, ADL continues to fight all forms of hate with the same vigor and passion. ADL is the first call when acts of anti-Semitism occur. A global leader in exposing extremism, delivering anti-bias education and fighting hate online, ADL's ultimate goal is a world in which no group or individual suffers from bias, discrimination, or hate. More at www.adl.org. 
Contact: Jonathan Mintzer
312-877-0744
jmintzer@adl.org
The following is the Very Rev. Dominic Barrington's statement at the press conference:
Good morning. I am Dominic Barrington, the chief pastor of the Episcopal Cathedral in downtown Chicago, and I am honored to be able to join with the others in this press conference to address the events of this last weekend.
Yesterday morning we at St. James Cathedral, in common with other Episcopalians, Catholics, Lutherans, and many other Christians across the entire western world happened to read a portion of Acts 17, telling the story of St. Paul speaking in the market place at Athens 2000 years ago. It is one of the most powerful speeches in the Christian scriptures and is a deeply eloquent reminder that all of humanity are children of the one God.
It was all the more terrible, therefore, at the conclusion of our online worship, to see the news of another outbreak of anti-Semitism, Neo-Nazism, and bigotry in the protest marches in Springfield. Such behavior, such slogans, and such implicit threats utterly undermine the legitimacy of genuine debate about the science or politics of the shelter-in-place orders. Christianity - along with all the great faith traditions of the world - has a call to serve the common good, rather than individual need, and to respect the dignity of all the children of the one God.
The hatred and bigotry we have seen in Springfield - and in some other parts of the US - fly against these values, and along with many other faith leaders, we at St. James Cathedral stand firm in utterly condemning them, and we are distressed at the silence from legislators and others who we would expect to join in such condemnation.