News Author: Alexandra Kunath
May 18, 2020
Chicago, May 18, 2020 – Community and civic leaders from across Illinois came together today to condemn the antisemitism, racism, and extremism reported at recent "stay-at-home" protests in Springfield and Chicago. The news conference was organized in response to reports that numerous "stay-at-home" protest attendees displayed antisemitic, racist, and extremist-related signs and engaged in similar rhetoric. The rhetoric included Hitler, Holocaust and Nazi comparisons targeting Governor J.B. Pritzker, statements such as "death to tyrants" and "tyrannical" actions, individuals calling coronavirus the "Wuhan virus," and references to QAnon and other conspiracies.
Opening the call, ADL Midwest Regional Director David Goldenberg noted, "We are all here for one reason, to collectively condemn the antisemitism, racism, Nazi comparisons and other forms of hatred recently witnessed during the stay-at-home rallies in Springfield and Chicago." Andy Kang, Executive Director of Asian Americans Advancing Justice of Chicago explained the dangers of hate speech by remarking, "Whether it is antisemitism or xenophobia or the scapegoating of the Asian community or Islamophobia . . . when we use this type of rhetoric, it's not just incredible reckless, it's dangerous." Lonnie Nasatir, President of Jewish United Fund of Chicago, added "Invoking Adolf Hitler and drawing parallels to Nazism as memes to protest public health policies designed to preserve human life is ignorant, hurtful, and hateful." Participants highlighted the importance of speaking out collectively against hate. Very Reverend Dominic Barrington, Dean of St. James Cathedral explained, "The hatred and bigotry we have seen in Springfield . . . fly against our values. And along with many other faith leaders . . . [we] stand firm in utterly condemning them." Jaime di Paulo, President and CEO of the Illinois Hispanic Chamber of Commerce similarly echoed, "An attack against one of our communities is an attack against all of our communities. We must instead work together to combat the problems we are facing as a community and not work against individual communities."
The group was critical of leaders and elected officials who fail to speak out against hatred when they see it. Karen Freeman-Wilson, President and CEO of the Chicago Urban League said, "What is even more unacceptable is the deafening silence, where individuals have failed to address what they know is a lack of moral compass in the statements that have been made." Michael Ziri, Director of Public Policy at Equality Illinois added, "Silence in the face of hate and discrimination is consent to hate and discrimination. We must defend the values of justice, fairness, and equality that have made Illinois one of the most inclusive states in America." Moving forward, Pastor Marvin Hightower, President, Peoria NAACP and Senior Pastor, Liberty Church of Peoria, implored, "We have the moral responsibility to say enough is enough. We are calling on our elected officials to say enough is enough. We are calling on our community leaders to say enough is enough. We are calling on everyone to say enough is enough." Maricela García, CEO, Gads Hill Center similarly urged elected officials to denounce these acts. "These painful acts must be stopped immediately," she said.
Many of the participants noted that no one is immune from the health risks posed by the virus. But there has been a disproportionate impact on some communities where longstanding inequities have been highlighted – and now is the time to redouble efforts to address them. Sindy M. Benavides, Chief Executive Officer of the League of United Latin American Citizen (LULAC), encouraged, "Civic engagement based upon mutual respect and tolerance, not name calling and hatred against those who differ in opinion." Finally, quoting Dr. Martin Luther King, Jr., James Rudyk, Executive Director of the Northwest Side Housing Center concluded, "Injustice anywhere is a threat to justice everywhere."
The leaders concluded the news conference with a collective call to all elected and community leaders – from across the state and political spectrum – to forcefully and unambiguously speak out and condemn hateful rhetoric and actions. A full recording of the news conference can be viewed here.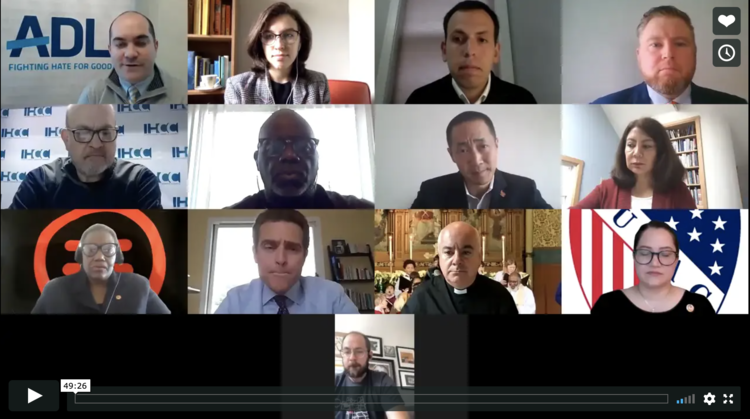 Participating in the virtual news conference were leaders from diverse community and advocacy organizations including ADL (Anti-Defamation League), Asian Americans Advancing Justice of Chicago, Chicago Urban League, Equality Illinois, Gads Hill Center, Illinois Hispanic Chamber of Commerce, Jewish United Fund of Metropolitan Chicago, LULAC, Peoria NAACP, Northwest Side Housing Center, and St. James Cathedral.
ADL is a leading anti-hate organization. Founded in 1913 in response to an escalating climate of anti-Semitism and bigotry, its timeless mission is to protect the Jewish people and to secure justice and fair treatment for all. Today, ADL continues to fight all forms of hate with the same vigor and passion. ADL is the first call when acts of anti-Semitism occur. A global leader in exposing extremism, delivering anti-bias education and fighting hate online, ADL's ultimate goal is a world in which no group or individual suffers from bias, discrimination, or hate. More at www.adl.org. 
Contact: Jonathan Mintzer
312-877-0744
jmintzer@adl.org
The following is the Very Rev. Dominic Barrington's statement at the press conference:
Good morning. I am Dominic Barrington, the chief pastor of the Episcopal Cathedral in downtown Chicago, and I am honored to be able to join with the others in this press conference to address the events of this last weekend.
Yesterday morning we at St. James Cathedral, in common with other Episcopalians, Catholics, Lutherans, and many other Christians across the entire western world happened to read a portion of Acts 17, telling the story of St. Paul speaking in the market place at Athens 2000 years ago. It is one of the most powerful speeches in the Christian scriptures and is a deeply eloquent reminder that all of humanity are children of the one God.
It was all the more terrible, therefore, at the conclusion of our online worship, to see the news of another outbreak of anti-Semitism, Neo-Nazism, and bigotry in the protest marches in Springfield. Such behavior, such slogans, and such implicit threats utterly undermine the legitimacy of genuine debate about the science or politics of the shelter-in-place orders. Christianity - along with all the great faith traditions of the world - has a call to serve the common good, rather than individual need, and to respect the dignity of all the children of the one God.
The hatred and bigotry we have seen in Springfield - and in some other parts of the US - fly against these values, and along with many other faith leaders, we at St. James Cathedral stand firm in utterly condemning them, and we are distressed at the silence from legislators and others who we would expect to join in such condemnation.
April 27, 2020
During the suspension of worship, we are offering daily opportunities to engage with the clergy, staff, and members of the congregation via Zoom. There really is something for everyone to add to your at-home worship.
For Adults & Young Adults


Daily Morning Prayer and Virtual 'Coffee Hour' - Monday to Friday at 10 a.m. on Zoom
The cathedral staff invites the St. James community to log on to Morning Prayer via Zoom at 10 a.m., Monday to Friday. A member of the cathedral staff will lead this 15 minute service followed by a virtual 'coffee hour' when we chat in small groups. 
CLICK HERE to join Weekday Morning Prayer & Coffee Hour
Dr. Brené Brown's The Daring Way™ - Wednesdays at 6:30 p.m. on Zoom
Join members from the St. James community as we come together to grow spiritually and personally by committing to showing up, being seen, and living brave using 
The Daring Way™ 
curriculum, a highly experiential methodology based on the research of Dr. Brené Brown. Blending together our Episcopal faith tradition and Dr. Brown's research, we will seek to become more authentic and engaging in wholehearted ways of living, loving, parenting, and leading.
CLICK HERE
to join The Daring Way™ on Wednesdays at 6:30 p.m.
The Dean's Forum - Sundays at 11 a.m. on Zoom
On Sundays, we will be offering a Dean's Forum by Zoom at 11 a.m. Each week the preacher of the Sunday sermon will be hosting a Bible study on the gospel passage of the day. Combining teaching about the portion of Scripture with discussion about the questions it raises, it will allow for further engagement with the Sermon of the Day, if you have heard it by then! 
CLICK HERE
to join the Dean's Forum on Sundays at 11 a.m.

For Sunday School Children & Their Families
Alison Barrington, Director of Children's Ministry, and the St. James Sunday School staff and clergy will offer Zoom classes and a new Family Service each week. 


Songs and Stories - Sundays at 9 a.m.
This is a class for children under the age of 5 and their carers.
CLICK HERE to join Songs & Stories on Sundays at 9 a.m.


Family Service & Forum - Sundays at 10 a.m.
Cathedral families with younger children are invited to join a live Zoom call for a brief service of scripture and prayers along with a clergy reflection for our youngest members.This will be followed by the opportunity for a brief social check in in smaller breakout rooms. Children (of all ages) are welcome! 
CLICK HERE to join our Family Service on Sundays at 10 a.m.
 
Youth Group with Andrew & Maria - Sundays from 11 a.m. to 12  p.m. 
Our Youth Group meetings are available for students in 6th grade or higher, led by Andrew Shelton and Maria Price. 
CLICK HERE to join Sunday Youth Group on Sundays at 11 a.m.


S.A.L.T. with Dean - Sundays from 11 a.m. to 12 p.m.
Dean Niedenthal leads St. James 4th and 5th graders in S.A.L.T. group on Zoom.
CLICK HERE to join S.A.L.T. on Sundays at 11 a.m.


Karen's Group - Seekers - Sundays from 11 a.m. to 11:30 a.m.
Alison Barrington leads a short Sunday School Seekers session on Zoom.
CLICK HERE to join Karen's Group on Sundays at 11 a.m.
 Unfamiliar with Zoom? Here is a Quick Start Guide for New Users, available on the Zoom website.
April 24, 2020
The St. James Music Department is excited to welcome our incoming Organ Scholar, Meg Cutting! Meg is a graduate student at the Yale Institute of Sacred Music and the School of Music, pursuing a Master of Music in Organ Performance in the studio of Martin Jean. Prior to Yale, she received a Bachelor of Music from the Eastman School of Music, where she did her undergraduate studies with Nathan J. Laube. Meg is from Salem-Keizer, Oregon, and began studying piano at the age of six. She previously studied piano and organ under the instruction of Pamela Miller. Meg has participated in various festivals, competitions, and given concerts throughout her musical career. She was a finalist in the Taylor Organ Competition in Atlanta, GA. She was also an E. Power Biggs Fellow for the 60 th National Organ History Society Convention, and subsequently assisted in the preparation of the 2018 OHS Convention in Rochester, NY. She has been featured on Michael Barone's Pipedreams Live!, and has additionally performed in concert at Slee Hall at the University of Buffalo, at Central Synagogue in New York City, and other notable venues. She is also the two-time recipient of the Robert Carwithen Music Foundation Scholarship. Meg has developed a passionate interest in the music of twentieth-century French organ composers, such as Messiaen, Alain, Duruflé, and Tournemire. She currently serves as the Wilson Family Sacred Music Intern at the Brick Presbyterian Church in Manhattan, New York, where she works under Minister of Music Keith Tóth. We look forward to having Meg join the St. James family in August of 2020.
Our current Isaac Drewes has been appointed the Associate Director for Music and Worship at Central Lutheran Church in Minneapolis, MN, where he will work with Cantor and Music Director Mark Sedio. There, he will share in service playing, accompany the Central Choir, and direct the Choristers and bell choirs. The semi-professional adult choir is 70 voices strong with repertoire including masterworks by Bach, Haydn, Vaughn Williams and others. The chorister program is poised for development and growth. The congregation is known for its robust hymn singing in the Lutheran tradition, while at the same time embracing hymnody from many different global styles. Isaac will conclude his Gerre Hancock Fellowship year at St. James Cathedral, Chicago this June, and will begin in his new role at Central Lutheran Church in August, 2020. We thank Isaac for his incredible work and contributions to our music programs throughout his appointment at St. James.