The Latest Cathedral News
September 14, 2022
Please keep the following people in your prayers:
FOR THOSE COMMENDED TO THE PRAYER OF THE CATHEDRAL COMMUNITY: odi, Janet, Derek, Shirley, Connie, Susan, Warzell, Francisco, Judy, Frank, Dave, Roger, Rosemary, Chandra, Jim, Joe, James
FOR THOSE WHO HAVE DIED AND HAVE BEEN COMMENDED TO THE PRAYERS OF THE CATHEDRAL COMMUNITY: Neal Wolf, Ted Johnson
FOR ALL THOSE WHO DIED BY GUN VIOLENCE IN CHICAGO IN THE PAST WEEK INCLUDING: David, Anthony, Ronald, Maurice, Johnel, Douglas, Cliff, Jacquez, Andre, and Luis
DIOCESAN CYCLE OF PRAYER: Diocesan Agencies: Bishop & Trustees; Diocesan Council, Diocesan Foundation, Episcopal Charities & Community Services; and Standing Committee
September 14, 2022
In collaboration with His Majesty's Consul-General in Chicago, St. James Cathedral will hold a service of thanksgiving for the life of Her Late Majesty Queen Elizabeth II on Saturday, September 24 at 11 a.m. The service will be live-streamed on the Cathedral streaming page. All are invited to attend!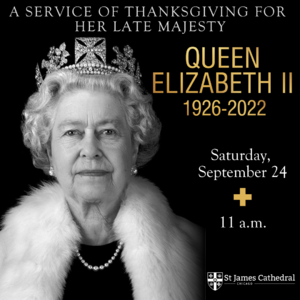 September 07, 2022
Please keep the following people in your prayers:
FOR THOSE COMMENDED TO THE PRAYER OF THE CATHEDRAL COMMUNITY: Lynda, Cathy, Lois, Ruth, Rosie, Ellen, Alice, Gloria, Emily, Dayna, Kevin, Richard, Jodi, Janet, Derek, Shirley, Connie, Jennifer, Susan, Warzell, Francisco, Judy, Frank, Laura & Dave, Roger, Rosemary, Chandra, Jim
FOR ALL THOSE WHO DIED BY GUN VIOLENCE IN CHICAGO IN THE PAST WEEK INCLUDING: Marcell, Dezmond, Shanita, Marcus, Jaelon, Theatus, Garvis, and Jason
DIOCESAN CYCLE OF PRAYER: The following bodies of the Episcopal Church: The General Convention; The House of Bishops; The House of Clerical and Lay Deputies; The Executive Council