The Latest Cathedral News
May 18, 2022
Please keep the following people in your prayers:
FOR THOSE COMMENDED TO THE PRAYER OF THE CATHEDRAL COMMUNITY: Lynda, Cathy, Drew,  Mike, Mac, Rob, Lois, Ruth, Rosie, Richard, Ellen, Barbara, Alice, Gloria, Emily, Susan, Dayna, David, Kevin, Dale, Juliet, Janice, John, Betty Jean
FOR THOSE WHO HAVE DIED AND HAVE BEEN COMMENDED TO THE PRAYERS OF THE CATHEDRAL COMMUNITY: Andrew William Thomas
FOR ALL THOSE WHO DIED BY GUN VIOLENCE IN CHICAGO IN THE PAST WEEK INCLUDING: Antwon, Devel, Eduardo, Renato, Jessica, Jere, Jessica, Turon, Nicholas, Jalen, Seandell, Alan, and Emmanuel
DIOCESAN CYCLE OF PRAYER: Congregations in the Joliet Deanery: St. Paul in Kankakee; St. John in Lockport; Good Shepherd in Momence; St. Thomas in Morris; Companion Dioceses of SE Mexico and Renk: San Pedro in Veracruz; St. Peter in Wun-Kur
May 18, 2022
Join us for our Ascension Day Service on Thursday, May 26 at 6:30 p.m. (organ prelude at 6 p.m.). Ascension Day is one of the universally celebrated feasts of Christian churches. Director of Music Stephen Buzard plays "L'Ascension," a meditation on Christ's ascension by French composer Olivier Messiaen.
May 17, 2022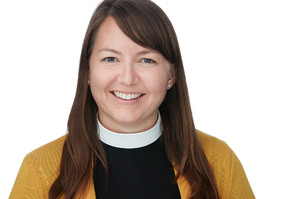 Dear Friends,
I am writing to share the news that our time with the Rev. Anna Broadbent, Associate for Outreach Ministries will be drawing to a close at the end of this program year. Anna will be relocating to Washington D.C. with her husband the Rev. Shawn Evelyn, Interim Associate for Youth Ministries, and their daughter Yara. Shawn has accepted a call to serve as Assistant Rector at St. John's, Lafayette Square, Washington D.C. Anna will pursue other opportunities to continue to exercise her considerable gifts for ministry in a new context.
I am delighted to share that Anna and Shawn have negotiated their transition timing so as to be able to remain with us at St. James until we have completed this year's 
Summer in the City
 camp. Their final Sunday with us will be Sunday, August 28 and will coincide with the return of our Dean from his sabbatical. With Dominic present, we will be able at that time to express our well wishes for them both, and our deep gratitude for Anna's time and leadership among us over these past four years. 
We will have plenty of time over the coming months to express our gratitude, and plan for a proper celebration to send them on their way. In the meantime, I am certain that one of the greatest gifts that we can give to Anna is the assurance that the outreach ministries that she has worked tirelessly to build, will continue in strength, empowered by God's Spirit and willing hands and hearts of the faithful in our community.
Peace,
The Rev. Canon Lisa Hackney-James
Acting Dean