Stephen Buzard performs inaugural recital as Director of Music
August 23, 2016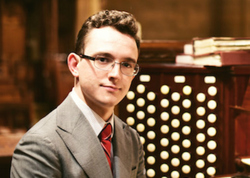 Sunday, September 18, 2016, 4:00 p.m.
Followed by a reception 
Music of Bach, Sowerby, Buck, Buzard, Duruflé
An interview with Stephen Buzard
Join the cathedral community as we celebrate the arrival of Stephen Buzard as the 38th organist/choirmaster and director of music at St. James Cathedral. Stephen will perform an inaugural recital featuring the music of J. S. Bach, Maurice Duruflé, and St. James organist/choirmasters Dudley Buck, Leo Sowerby, and Stephen Buzard.
The recital will be followed by a festive reception in Stephen's honor.
Admission is free.
Program
Toccata, Adagio and Fugue in C Major, BWV 564 — Johann Sebastian Bach (1685-1750)
Music by Organists of St. James:
       The Last Rose of Summer, op. 59 — Dudley Buck (1839-1909)|
       Attende Domine — Stephen Buzard (b. 1989)
       Comes Autumn Time — Leo Sowerby (1895-1968)
Prélude, Adagio, et Choral varié sur le theme du "Veni Creator," op. 4 — Maurice Duruflé  (1902-1986)
Biography
Stephen Buzard is the Director of Music at St. James Cathedral in Chicago. Mr. Buzard previously served as Assistant Organist and later Acting Organist and Director of Music at Saint Thomas Church Fifth Avenue in New York City. He holds a Master of Music degree from the Institute of Sacred Music at Yale University where he studied organ with Thomas Murray and improvisation with Jeffrey Brillhart. Mr. Buzard also attended Westminster Choir College, studying organ with Ken Cowan and improvisation with Bruce Neswick. Between undergraduate and graduate schools, Mr. Buzard spent a "gap year" in England as senior organ scholar of Wells Cathedral. His other church positions have included Trinity on the Green, New Haven; Yale Divinity School; Trinity Episcopal Church, Princeton; and the Episcopal Church at Princeton University. For more information, please visit www.stephenbuzard.com.
Read an interview with Stephen