An Interview with Director of Music Stephen Buzard
August 23, 2016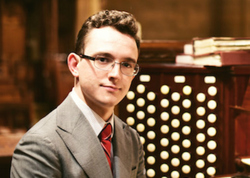 Meet Our New Director of Music, Stephen Buzard
An interview conducted by Noel Morris 
Join us in welcoming Stephen at his inaugural recital as Director of Music on Sunday, September 18, at 4:00 p.m., followed by a reception.
Ordinarily, youth and experience don't come in one package, but St. James Cathedral's incoming director of music, Stephen Buzard, didn't have an ordinary childhood — at least not compared to other kids who dabble with music lessons. At 27, Buzard already has a couple decades of experience with Anglican church music.
His mother is the longtime organist and choirmaster at St. John the Divine in Champaign, a parish affiliated with the University of Illinois. His father founded an organ-building company. Buzard (pronounced byoo-ZARD) started as a chorister and piano student, but at the age of 12, decided to dip a toe into the family business — he wanted to learn the organ. Finding a teacher and instruments were non-issues.
Upon entering University High School, Buzard became a de facto student of the U of I organ program. As an undergraduate at Westminster Choir College, he became a working church musician.
Training at cathedrals in England lends a certain cachet in this business — after graduation, Buzard joined the music staff at Wells Cathedral in Somerset. At Wells, he entered into a tradition of worship and music-making that reaches back to the Middle Ages (construction of the Cathedral began in 1175). This is an important point: in school, church musicians study music tied to the various aspects of worship; in the cathedral, they learn performance practices that are handed down from musician to musician for hundreds of years.
One English institution that most impressed Buzard was the cathedral school, which trains singers from the age of nine. Originally, women weren't permitted to sing in church, so choral composers enlisted boy trebles; out of that came a tradition of training children to sing like a professional ensemble.
"If money were no issue," Buzard said, "I would love to open a choir school in which choristers could receive a world-class education, rehearse together every day, and sing evensong every afternoon. I love this English cathedral model because it combines the imperative to praise God 'seven whole days, not one in seven,' in the words of George Herbert, with outreach by providing kids with opportunity, education, and Christian formation. There is also nothing like singing together on a daily basis for forming a cohesive, intuitive ensemble."
Stephen Buzard returned to the United States and earned a Master's Degree from the Yale Institute of Sacred Music before joining the staff at Saint Thomas Church Fifth Avenue in New York City. At St. Thomas, he found an able mentor in John Scott, a veteran of St. Paul's Cathedral in London. Buzard's tenure suffered a shock, however, when Scott died suddenly in August of 2015. Overnight, the then-26-year-old had a music program to run at one of the most visible parishes in the country. Serving as Acting Organist and Head of Music for the 2015-2016 season, Buzard received what he calls the "capstone" in his training.
In March of 2016, The Diapason honored Stephen Buzard as one of the "20 under 30," which identifies musicians "who are setting the pace for the future of the pipe organ, harpsichord, carillon, and church music." Honorees are chosen for "exhibiting superior accomplishments, leadership, creativity, and innovative thinking."
"[Buzard] is a rising star, if ever there was one," said Dale Adlemann, Canon of Music at Cathedral of St. Philip in Atlanta.
Now at summer's end, Stephen Buzard is leaving the Big Apple and returning to the Midwest. Between moving cross-country, ending his tenure at St. Thomas one week and starting at St. James the next, he did manage to answer some questions about his plans for Chicago:
A quick internet search brings up lots of photos of you sitting at organ consoles; there are also a few wedding photos. Are you a newlywed?
I am a newlywed. Lieve and I got married on September 4th of last year, so my first Sunday at St. James will also be our one-year anniversary!
What are you most looking forward to as a Chicagoan?
I'm looking forward to being close to my family. My parents are still in the same house in Urbana, and both sets of my grandparents live in the Chicago suburbs. Lieve and I are also excited about the beaches and paths on the lake, as well as the first-class dining and artistic experiences Chicago offers. If the Cubs keep playing well, that could also be exciting this fall ...
There are lots of competing philosophies about the ideal choral sound. What kind of sound will you be working toward with the Cathedral Choir?
I do not believe in straight tone except in rare circumstances and for specific effects. Vibrato is a natural function of healthy technique, and singers should sing with their natural voice. My ear leads me to a legato approach, driven by clarity and understanding of the text. Clarity is achieved not through percussive diction (as many choir directors aim for), but through uniform, blended of vowels. Understanding of the text leads to natural expression informed by word stress and singing with meaning. Beyond this, singers should sing as themselves. I certainly will not try to make the Cathedral Choir sing like a men and boys choir!
You're coming from directing a men and boys choir to an all-adult choir. Do you see a role for kids in the SJC music program?
I envision St. James being better served by providing opportunities for young choristers to sing in addition to the very fine Cathedral Choir. I plan to spend my first year figuring out exactly what that will look like, but I hope to start a choral program for children very soon. I have several friends and colleagues who I am already tapping for advice about building a children's chorister program from scratch in an urban setting, and I am excited to start to put some of these ideas to work.
Do you care to comment on our organ?
The organ is in dire need of significant rebuilding or replacing. Two whole divisions have been removed, and what remains is riddled with mechanical and electrical problems. Our amazing organ curator, Jeff Weiler, has worked miracles over the summer to stabilize the instrument, so it should be able to serve the Cathedral for the time being. The opportunity to help steer the vision for this cathedral's organ is one of the things that excites me about St. James, and I look forward to rolling up my sleeves and making it happen.
How do you see your role in terms of ministry?
A director of music is first and foremost a minister. He or she ministers to the congregation by helping them lift their voices in worship and by providing an emotional counterpoint to the scripture that leads to a more complete understanding of the faith. The director also plays a critical role as minister to the choir. Fostering community is advantageous for a choir in so many ways. When people feel supported, valued, and like they are having fun in choir, they will make it a priority in their busy lives. When expectations are set high, in an encouraging way, the choir can all grow together. When a choir socializes together and enjoys one another's company outside of rehearsal, this is an example of Christian fellowship. From a musical perspective, one can also hear this community in the sound of the choir and the tightness of the ensemble.
A year ago, you and your fellow church musicians suffered a trauma with the sudden loss of organist and director of music John Scott. What was that like?
Conducting John Scott's funeral was perhaps the most difficult thing I will ever have to do professionally. It was an extremely taxing year, but I am grateful to have been there for the boy choristers, to have helped them to get on with their singing as professionals and deal with their grief; and to have been able to pass on that wonderful musical treasure during its biggest existential crisis in 100 years.
Dean of the Cathedral Dominic Barrington has floated the idea of bringing the sung mass back into our services. Do you like that idea?
Choral mass settings would be a wonderful way to take the musical offerings of St. James to the next level. A choral mass setting makes the service like a musical tapestry, in which a consistent thread comes back in the Kyrie, Gloria, Sanctus, Benedictus, and Agnus Dei. This thread can be chosen to better complement the scripture and preaching of the day, as well as the other musical selections. There are few good congregational settings of the mass [typically used in church] — and the ones that are out there tend to be similar in character. Because the music is often more difficult than hymnody, it needs to be repeated week to week in order to become familiar. A choral mass, on the other hand, provides so much more variety and nuance. The singing of the Gloria, for instance, is no longer repetitious, but becomes an opportunity for musical theological expression, tailored to the mood and motifs of that day's lectionary. Composers through the ages have put their souls into their settings of the mass, representing a pinnacle of their musical achievement.
From a practical standpoint, I have found many newcomers feel put-off by congregational mass settings. Unlike hymnody, the tunes are usually unfamiliar and difficult to pick up, if one doesn't read music, because there is no play-through at the beginning, and they are not strophic [repeated verses]. The Gloria becomes this moment at the very beginning of the service when prospective members see everyone else singing something by heart. They don't entirely understand or feel comfortable trying to sing along; and as a result, feel like fish out of water. Praying the words of the Gloria or Sanctus as the choir sings them, however, allows everyone to participate and worship on equal footing. I think St. James would be well-served by occasional choral mass settings at the 11 a.m. service.
New York-style vs. Chicago-style pizza?
Chicago definitely. It's like real food rather than flavored bread.
What's on your iPod that has nothing to do with church music?
NPR podcasts — I have pretty much every episode of This American Life from at least the last 5 years!