News Author: The Very Rev. Dominic Barrington
For the most up-to-date news at St. James, subscribe to our weekly email newsletter. Staff notices, important announcements, and press releases are below.
January 28, 2018
Delivered to the congregation of St. James Cathedral at the Annual Meeting on January 28, 2018.
In our gospel reading this morning, we heard Mark's account of the beginnings of what our Presiding Bishop often calls "the Jesus movement." Since the New Year begun, we have heard Mark's tell us of Jesus appearing at the Jordan River to be baptized by John and then starting his public ministry, by proclaiming that the time of the Kingdom of God has arrived; of his calling two pairs of brothers to leave behind the family business and follow him; and then, this morning, good Jew that he is, he rolls up in the local synagogue in Capernaum and starts to teach. 
April 07, 2017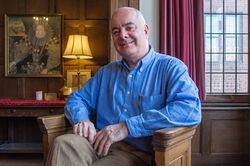 We stand on the brink of the most important week of the year. We are who we are - the Church of God and followers of Jesus - because of what God did for us in this week to end all weeks. My only message to you today can be to encourage you to walk with Jesus anew in this celebration of the last week of his life, that you may be reminded as fully as is possible of the depths of God's love and the new life which it brings the world.
February 13, 2017

A note from Dean Dominic Barrington about "The Shack"
The topic of Dean's Forums in March & April